Flu/COVID Vaccines Available in Millersburg!
In partnership with The Bourbon County Health Department, you will be able to get your Flu and/or COVID vaccine right here in Millersburg at City Hall!
When: Saturday, November 5th, 2022
9:00am – 12:00pm
Where: Millersburg City Hall (1113 Main Street Millersburg, KY 40348) There will be no charge for COVID vaccines.
For Flu Vaccines, the Health Department will bill your Private Insurance Company, Medicare, or Medicaid, or you may self-pay.
Please be sure you have a copy of this information with you when you come.
Questions? Call (859) 484 -3901.
---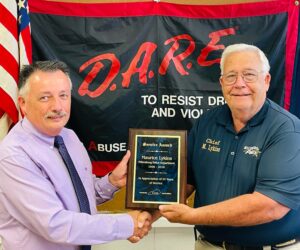 On Monday, June 27th, 2022,
Chief Maurice Lykins was presented his 20 Year D.A.R.E. (Drug Abuse Resistance Education)
Service Award by Mayor Lee Hopkins. 
We appreciate all the efforts that Chief Lykins puts towards assuring that our youth is taught and has the tools to resist peer pressure and live drug and violence free lives.
According to the D.A.R.E. website, the program was founded in 1983 and is taught to students, from kindergarten – 12th grade.
"Mo" as many know him, spent the last school year at North Middletown Elementary teaching their students the D.A.R.E program each week.
Mr. Lykins has taught D.A.R.E to elementary students for 24 years now.
What an accomplishment!
Thank you Chief Lykins!